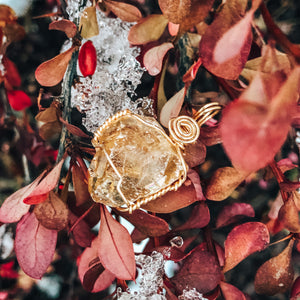 Only one beautiful honey calcite available right now! This beautiful raw beauty is handcrafted with love and wrapped in gold colored wire. This little pendant would make for a perfect little gift for any occasion. 
Specs: 
100% Handmade
Materials: Gold colored wire
Stone: Honey Calcite
Raw Stone: Yes
Style: Boho and Hippie
Chain: This purchase comes with a black cord chain.
Free Shipping
Properties: 

Honey Calcite is a stone of great responsibility. Honey Calcite encourages leadership and helps one develop new skills. Honey Calcite is known for helping people with abusive situations and also increases courage. Honey Calcite enhances self worth and confidence. Physically, honey calcite cleanses organs and encourages calcium uptake in bones. Honey calcite is also known to help with tissue healing and helps with a variety of wounds. Honey Calcite is associated with the Solar Plexus chakra. Honey Calcite is associated with the element, fire. Honey Calcite resonates the strongest with the zodiac, Cancer.

Shipping:
Orders will be shipped in 1-3 business days, however, some packages may be delayed due to COVID.
*** This product is not FDA approved and in no way should replace direction or medication given by a medical professional.