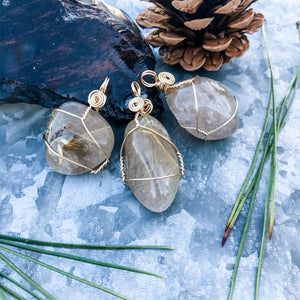 Rutilated Quartz helps clear out any energy blockages and contains an exceptionally high vibration guiding its wearer to their one true purpose. Helping one find their path in life. If you are trying to manifest quickly, this is the crystal for you, Rutilated Quartz is one of the most powerful crystals when programming and manifesting. Purchase one today and start your journey and find your true path in life.
Specs:
100% Handmade
Stone: Tumbled Rutilated Quartz.
Tumbled Stone: Yes
Material: Gold colored wire.
Chain: This pendant comes with a black cord chain.
Style: Boho and Hippie
Free Shipping
Properties:
Rutilated Quartz has little flecks of golden rutile running through the quartz, it is said to be sprinkled by the dust of angels. Rutilated Quartz is an illuminator for the soul and represents determination and independence. Rutilated Quartz protects the wearer against the ill thoughts of others around them. Rutilated Quartz helps one let go of the past and move on in the right direction.  Rutilated Quartz helps one overcome fears and phobias. Physically, rutilated quartz is said to treat respiratory illness such as bronchitis. Rutilated Quartz helps aid exhaustion and stimulates cell regeneration. Rutilated Quartz helps one balance the thyroid. Rutilated Quartz is associated with the elements of fire and air. Rutilated Quartz is for the Solar Plexus chakra. Rutilated Quartz resonates the strongest with the zodiacs, Leo, Gemini, and Taurus.
Shipping:
Orders will be shipped in 1-3 business days, however, some packages may be delayed due to COVID.
*** Please note that because these are all natural stones, the crystal you receive may vary slightly in color, shape, and size than pictured. This product is not FDA approved and in no way should replace direction or medication given by a medical professional.