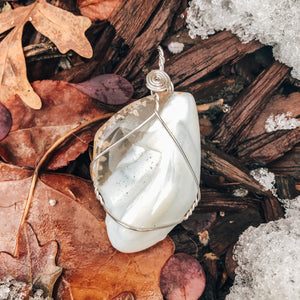 This beautiful White Onyx pendant is one of a kind. The stone has a beautiful milky white color along with a small translucent part on the top. This White Onyx is delicately wrapped in silver colored wire and ready for a new home!
Specs:
100% Handmade
Stone: White Onyx.
Tumbled Stone: Yes
Material: Silver colored wire.
Chain: you can purchase this pendant with a black cord chain or a silver chain.
Size of stone: about 2in long
Style: Boho and Hippie
Free Shipping
Properties:
White Onyx is a stone of strength and helps drive away bad influences in the path of the wearer. White Onyx helps one become confident and strong minded, as well as helping with mental and emotional stress. Physically White Onyx is said to help with wounds and burns. White Onyx is known for being good for the skin. White Onyx also helps strengthen one's immune system. White Onyx is associated with the third eye and crown chakra. White Onyx is associated with the tarot card, The World. White Onyx is associated with the element Earth. White Onyx resonates the strongest with the zodiac Capricorn. 
Shipping:
Orders will be shipped in 1-3 business days, however, some packages may be delayed due to COVID.
*** This product is not FDA approved and in no way should replace direction or medication given by a medical professional.